Aloe Vera Extract Gel Powder, Organic Item #AV30001 (2.2 lb / 1k) bulk
Login for Price
All of our Aloe Vera Extract Gel powders meet the same high quality standards.
Packaged and labeled for use as a dietary supplement, for topical use, or for agricultural use.
Which Aloe Vera Extract Gel Powder will you choose?
LARGE BULK SIZES AVAILABLE
Call 1-800-661-6851 for quote on orders between 5 kg and 500 kg.
BULK ITEMS CANNOT BE REFUNDED

New customers should contact Omica before purchasing in bulk. Bulk items are non-refundable.
Description
Get all the benefits of Omica's pure, 200-Fold Aloe Vera water soluble powder. Extracted from the clear gel found inside the plant's leaves. Our unique low heat extraction and drying process retains the full spectrum of Aloe Vera's mucopolysaccharides.
200 times more potent than just crude Aloe Vera Gel
Not contaminated with the green skin
Certified USDA Organic, Star-K Kosher
NO Solvents Used
100% Pure, No Additives or Fillers
Vegetarian/Vegan, Non-GMO, Non-Irradiated
Ingredients:
Directions:
As a dietary supplement, add 1/8 level teaspoonful (500 mg) to a water, smoothie or juice. Drink throughout the day. Or as directed by your physician.
Label: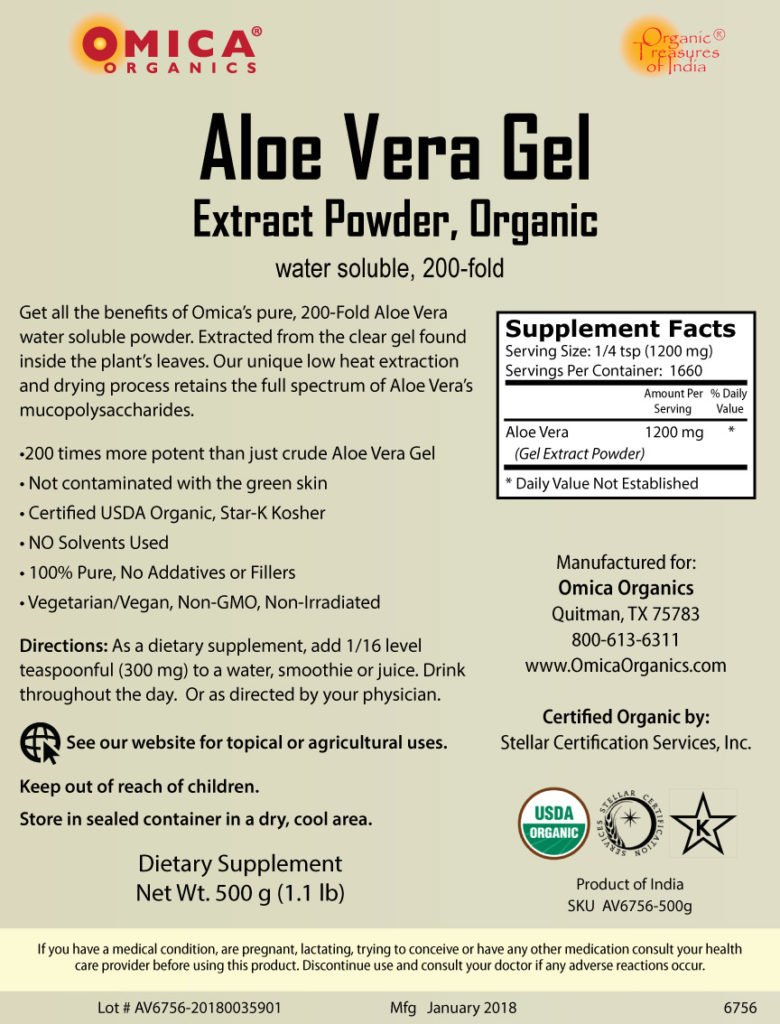 Additional information
| | |
| --- | --- |
| Weight | 2.5 lbs |
| Dimensions | 11.5 × 12 × 4.5 in |