Botanica Mist Biodynamic Functional Body Spray & Toner (99 ml / 3.34 fl oz)
Login for Price
A proprietary blend of uplifting biodynamic® organic Lavender, Rose Geranium, Rosemary, and California Poppy hydrosols that elevates vitality and soothes the senses while it refreshes and tones the skin.
Description
Our Organic, Biodynamic® Functional Body Spray & Gentle Toner contains a blend of soothing and uplifting aroma-therapeutic hydrosols combined with rejuvenating essential nutrients. Our proprietary blend elevates vitality and soothes the senses while it refreshes, tones, balances and hydrates the skin.
Our Certified Organic Biodynamic® ingredients are hand-crafted in small batches on a single self-sustaining family-operated, biodynamically-run farm where every plant is gently tended with care, then harvested by hand to produce exceptional hydrosols which retain the optimum essence, fragrance, and vibration of every plant. We take careful strides not to over-process our grape alcohol, making sure we retain the natural benefits of the fruit.
Bottled in Miron Violet Glass that preserves the integrity and enhances the vitality of every ingredient. Miron Glass was developed using the science of biophotonics. Findings have shown that once the cells of plants (such as the hydrosols) mature, the effects of the sun's rays no longer nurture, but begin to accelerate the molecular decaying process. Miron violet glass works as a natural filter that lets in only those rays that lengthen durability and potency. Please reuse this very unique bottle.
No Colorings, or Artificial Ingredients or Preservatives
Non-Irradiated
Product of the USA
Certified Organic/Biodynamic® Hydrosols
Vegan/Vegetarian
Gluten-Free
3.34 fl oz (99 ml)
Ingredients:
Biodynamic® Organic Lavender, Rosemary, Rose Geranium, and California Poppy Hydrosols (Floral Waters). Biodynamic® Organic Ethyl Alcohol, Organic Flax Seed Glycerin, Biodynamic® Organic Lavender Essential Oil
Directions:
Shake before use. Gently mist body after bath, shower, or any time to refresh, revitalize and tone the skin. May also be used as a room air freshener. Avoid contact with eyes and other sensitive areas.
Label: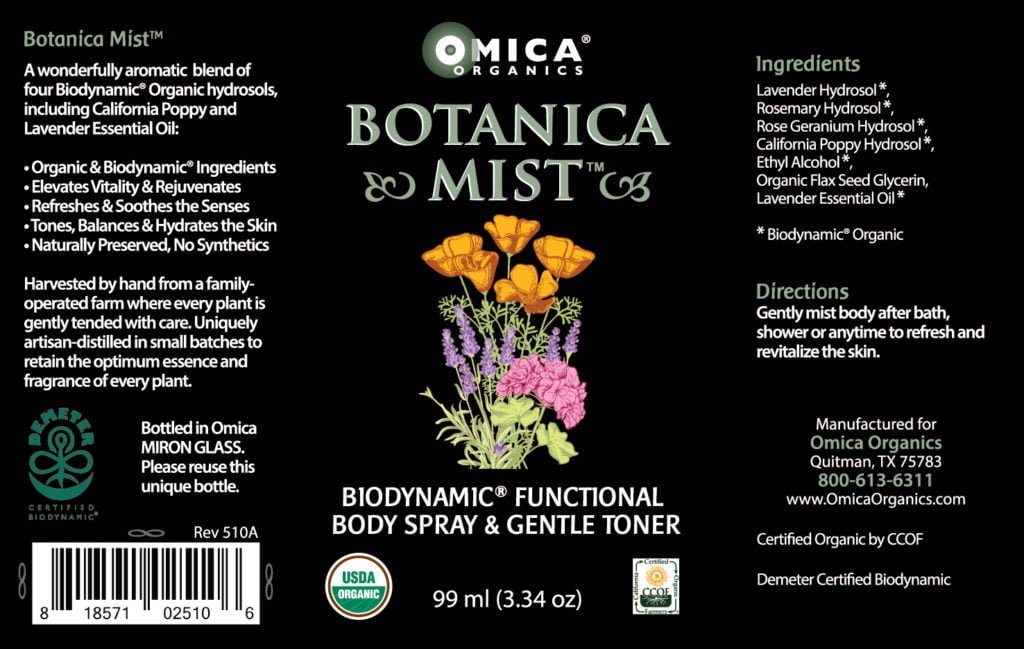 Additional information
| | |
| --- | --- |
| Weight | .55 lbs |
| Dimensions | 6 × 2 × 2 in |