Water By Omica 12 Stage Water Filter & Activation System Replacement Cartridges 1-6
Login for Price
Omica 12 Stage Water Filter & Activation System Replacement Cartridges 1-6
Description
Water By Omica's Home Water Filter Replacement Cartridges (1 – 6) are developed for our 12 Stage Water Filter & Activation Systems. These replacement cartridges are quick and easy to change, and arrive securely and fully enclosed.
We recommend that you replace the first 3 cartridges every 10 months and the final 3 cartridges every 20 months.
Omica Organics is dedicated to providing you and your family with the best water available.
Water Filtration Cartridges
1st Cartridge
Removes larger particles suspended in water such as sand, dirt, rust and colloids
2nd Cartridge
3rd Cartridge
Removes VOC organic matter, particulates, odor and turbidity
4th Cartridge
Removes bacteria, viruses, antibiotics, heavy metals, dissolved matter and salinity
5th & 6th Cartridges:
Reintroduce ionized minerals to the water with Zeolite, Shungite, Calcium, Magnesium and Potassium
Improve taste and vitality properties to your water
Help remove radiation
Cartridge Replacement Schedule:
| Cartridge | Lifecycle |
| --- | --- |
| 1st Cartridge |  8-10 Months |
| 2nd Cartridge |  8-10 Months |
| 3rd Cartridge |  8-10 Months |
| 4th Cartridge | 16-20 Months |
| 5th Cartridge | 16-20 Months |
| 6th Cartridge |  8-10 Months |
Omica Organics recommends our customers replace filters proactively to maintain the best water quality standards for you and your family. Filter replacement intervals are based on normal usage and feed (source) water quality. Actual filter life will vary with the frequency of use, total volume produced, and source water quality. Heavy usage or poor source water quality, may require more frequent filter replacement.
Please contact us for replacement filters and assistance.
Label Info: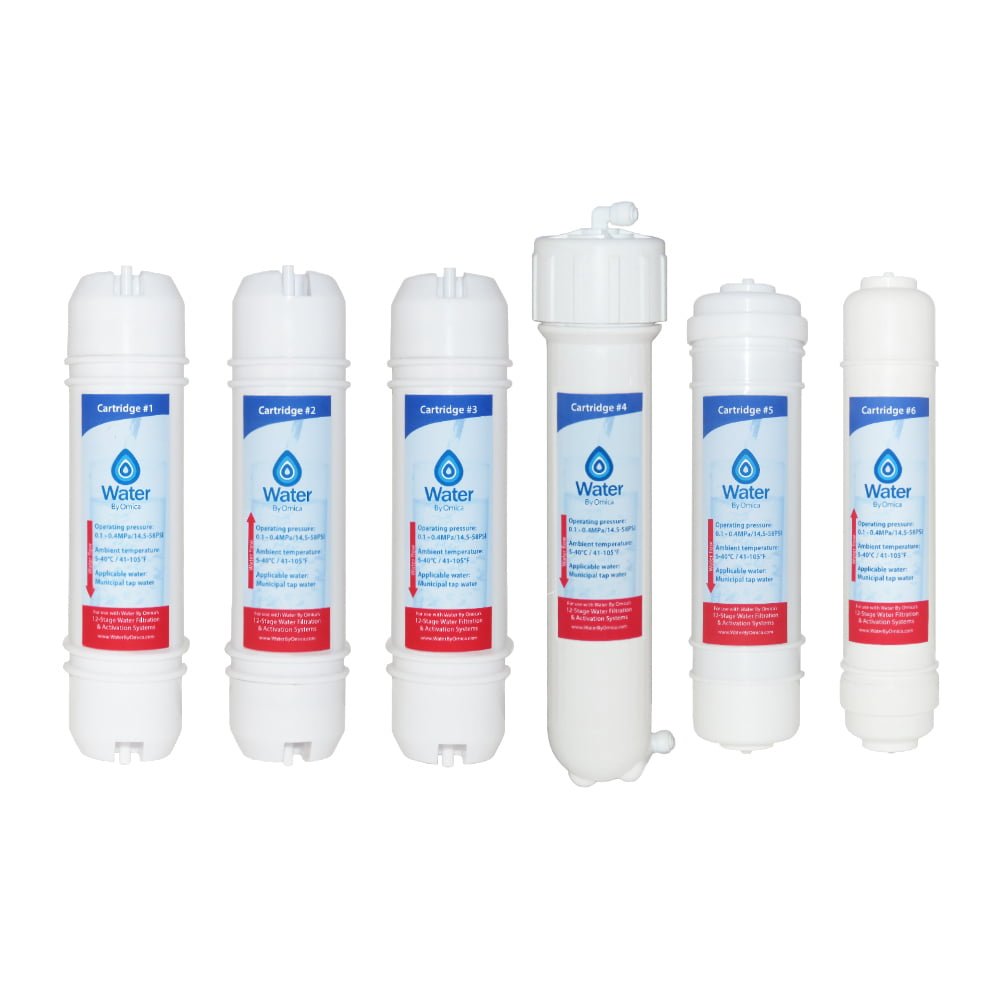 Click to see full size image
Additional information
| | |
| --- | --- |
| Weight | 6 lbs |
| Dimensions | 9 × 7.4 × 13.5 in |