High Himalayan Shilajit Powder, Kosher (5 k) bulk
Login for Price
Uniquely sourced from a proprietary high-altitude region above 8000 feet in the Himalayan Mountains
Also available in 2 oz and 3.7 oz retail sizes and smaller bulk sizes.
BULK ITEMS CANNOT BE REFUNDED

New customers should contact Omica before purchasing in bulk. Bulk items are non-refundable.
Description
Each batch of raw materials is tested in a 3rd-party laboratory before processing and packaging. Click on the links below to see the lab test results.
Omica Organics has long-term leases for two proprietary harvesting areas above 8,000 feet in the High Himalayas.
We maintain control of the quality and integrity of our shilajit, from the beginning when it's gathered, through processing, drying, storing, and shipping. We do not purchase on the open market from distributors or brokers in India, nor do we relinquish control during any part of the process. US FDA regulations are followed at all times (which cannot be guaranteed unless one has a company representative on site, as we do). The processing facility is FDA GMP, and ISO 9001:2008 certified.
The low-heat extraction method used for our powders produces one of the purest forms of Shilajit available, abundant in Dibenzo alpha Pyrones, plant-based trace minerals, amino acids, and naturally-occurring high concentrations of Fulvic acid. Omica Organics shilajit is a full-spectrum water extract, solvent-free, and without fillers.
Wild Crafted and Certified Kosher
Sourced Directly From an Omica Organics Proprietary Property above 8,000 ft. in the Indian Himalayas
Naturally High Fulvic Acid Content
Low-Heat, Solvent-Free Extraction (below 96°F)
Processed in an FDA GMP and ISO 9001:2008 Certified Facility
Packaged in the USA
No Fertilizers, Chemicals, Pesticides
All Natural, Vegan/Vegetarian, Gluten-Free
Not Irradiated
No Fillers or Binders
| | | |
| --- | --- | --- |
| 8.8 oz (250 g) | Serving size:1/4 tsp (0.85 g) | Servings per container: 294 |
Ingredients:
100% High-Himalayan Shilajit
Directions:
1/4 tsp/day. May be mixed with any beverage. Store in a cool, dry place out of reach of children.
Label: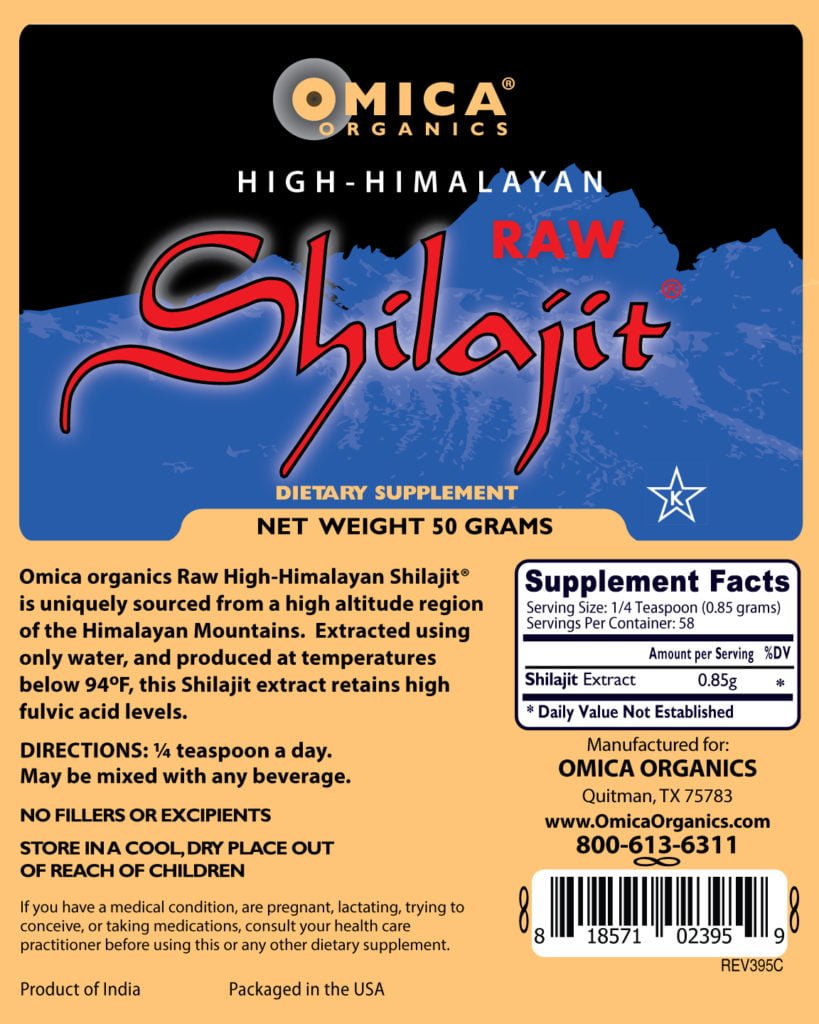 Additional information
| | |
| --- | --- |
| Weight | 12 lbs |
| Dimensions | 11.5 × 12 × 4.5 in |
| Size | 250 g, 500 g, 5 k |