Liquid Stevia – Butterscotch Toffee, Organic (16 fl oz) bulk
Login for Price
Omica Organics' Liquid Stevia is a Zero-Calorie sweetener having an aromatic, dynamic sweetness, but without the bitterness associated with other stevia products
SPECIAL PRICING AVAILABLE
Call 1-800-661-6851 for quote on orders of 4 bottles or more.
NOT ELIGIBLE FOR FREE SHIPPING

Bulk and Heavy items are not eligible for free shipping.
Description
Omica Organics' Liquid Stevia™ is a naturally highly-concentrated direct extract. Created using our proprietary revolutionary TruExtract™ production method, this is un-reconstituted from white powdered Stevia Extract (unlike other liquid stevia products that are reconstituted from dehydrated stevia). This is a true liquid extract that has not been spray-dried, and only slightly filtered, leaving the beneficial micronutrients intact. The result is an aromatic, dynamic sweetness without the bitterness associated with other stevia products.
No Artificial Colors, Flavors, or Preservatives
Zero Calorie, Zero Carbohydrates, Zero Glycemic Index
4800 Servings in every 16 oz bottle
Non-GMO, Gluten-Free, Vegetarian/Vegan
Use as a substitute for agave, sugar, honey, or other sweeteners
Glass bottle with custom-made blunt-nose glass dropper; no plastic touches the stevia
Refreshingly sweet, smooth-tasting and truly bitter free
Made with Certified Organic Flavors
What makes Omica Organics' Liquid Stevia extracts unique?
Standard methods for creating stevia liquid extracts consist of reconstituting white stevia powder into liquid, which contributes to the typical bitter aftertaste often attributed to stevia sweeteners. Omica Organics' methodology is markedly different. Our exclusive, proprietary method produces a direct liquid extract that is not reconstituted, resulting in a bold, highly-concentrated sweetener that retains the exquisite sweetness and vitality of the stevia plant.
Rebaudioside-A and Rebaudioside-C
Omica Organics' extracts contain naturally-occurring high levels of Rebaudioside-A and low levels of Rebaudioside-C, making it one of the sweetest and smoothest-tasting liquid stevia extracts available in the marketplace. Generally-speaking, the higher the levels of Rebaudioside-A and the lower the levels of Rebaudioside-C, the better-tasting the stevia.
Certified Organic Stevia
Omica Organics' proprietary stevia is cultivated from an extensive network of family-owned stevia farms. Self-sustaining farming methods help preserve the naturally-beneficial phytochemicals of the stevia leaf. The stevia leaves are picked by hand at the peak time of the growing season and then dried naturally with sunlight and fresh air.
No Artificial Preservatives
Only certified organic glycerin and certified organic alcohol are used to help preserve and extend the shelf life.
Uniquely Natural
Omica chooses to leave our NOP-certified organic liquid stevias uniquely natural by not over-processing, leaving the natural benefits of the stevia plant intact. Just as unfiltered apple juice retains the benefits and color of the raw apple pulp, the cloudy opaqueness of our liquid stevias show that the nutrients, natural aromas, texture and flavors remain, as well as the original concentrated sweetness of the stevia leaf.
To make a liquid stevia completely clear, it must be processed first by dehydrating or spray-drying into a white powder, then reconstituting back into a liquid. This process, routinely used in conventional liquid stevia/sweetener production, reduces the natural aroma and good flavor of the stevia leaf, while producing a clear liquid that has little nutritional value.
If you prefer a high-quality clear liquid (without rich texture, aroma, and color), we do offer an excellent white stevia extract powder that will make several gallons of clear, liquid stevia when diluted with water. Though Omica's white stevia extract powder is spray-dried and further filtered (as all white stevia extract powders are), it is still free of additives and non-organic (synthetic) solvents. It is also contains high levels of Rebaudioside-A and low levels of Rebaudioside-C giving it a very clean sweet taste with very little to no after taste.
Attention to Detail
In keeping with Omica Organics' high standards, we pay close attention to detail. For instance, all of our liquid supplements and our stevias are sold in glass bottles with custom-made blunt-tipped glass droppers so there is no plastic touching the liquid. For further safety, we undertook to have special droppers custom produced just for our products, rather than purchase industry-standard glass bull-nose droppers, which have a long, thin tip and are prone to breaking.
16 fl oz (473 mL)          Serving size:  2 drops         Servings per container:  4800
Omica does not, nor has ever, tested on animals.
Please feel free to share your experience with all of us by commenting on the Reviews tab above. Thank you.
For educational purposes only.  The statements made on this website have not been evaluated by the Food & Drug Administration, and are not intended to be relied upon as medical advice.  This product and information are not intended to diagnose, prevent, treat, or cure any disease, and may not apply to you.  Results may vary.  If you are pregnant, nursing, taking other medications, or have a serious condition, we suggest consulting with a physician or other appropriate medical professional before using any dietary supplements, or following the information provided on this site.
Ingredients:
Certified Organic Liquid Stevia (Stevia rebaudiana Bertoni)
Certified Organic English Toffee and Butterscotch Flavor
Certified Organic Vegetable Glycerin
Organic/Biodynamic grape Alcohol (6.9%)
Directions:
Because our extracts are naturally concentrated, we recommend that you begin with a serving size of 2 drops in coffee, tea or any other hot or cold beverage or food, then add drop by drop until you find the perfect sweetness for you.
Use as a substitute for sugar, honey or other sweeteners.
Shake well before using.
Label: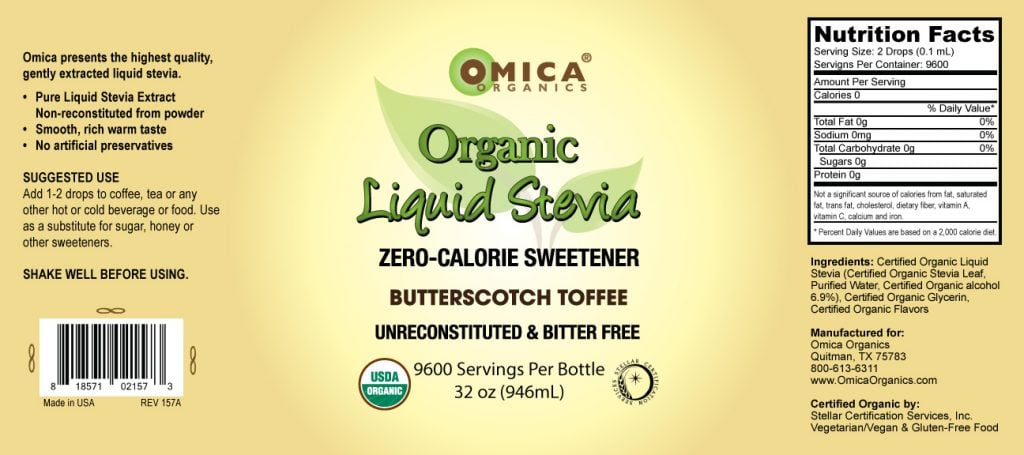 Additional information
| | |
| --- | --- |
| Weight | 2.45 lbs |
| Dimensions | 4.5 × 4.5 × 10 in |