Description
Test Results Summary:
| | | | | |
| --- | --- | --- | --- | --- |
| Gallons | Flow Rate | Added Chlorine | Remaining Chlorine | % Chlorine Removed |
| 1,000 | 2.46 gpm | 2.40 mg/L | 0.03 mg/L | 99% |
| 2,000 | 2.48 gpm | 2.03 mg/L | 0.05 mg/L | 98% |
| 3,000 | 2.44 gpm | 1.99 mg/L | 0.10 mg/L | 95% |
| 7,000 | 2.51 gpm | 2.05 mg/L | 0.18 mg/L | 91% |
| 10,000 | 2.51 gpm | 2.11 mg/L | 0.21 mg/L | 90% |
Refreshing and invigorating shower experience
Helps restore the natural integrity of the shower water
Brings back your body's healthy, natural radiance with softer skin and silkier hair
Helps reduce scale build-up on tile and glass
The Omica Shower Filter is uniquely designed with NO cartridge to allow more room (up to 30%) for more filtering media
Flow Rate 2.0 GPM (conserves water and energy)
Housing made of non-pigmented, natural color BPA-free plastic
Twice the filtration media of most other shower filters
Maintains maximum head room
Hand-crafted in the USA
Our Omica Shower Filter uses the oxidation reduction process known as "redox" (an electro-chemical reaction) to transfer electrons between molecules, thus creating new elements. In this way, the structure of harmful contaminants are changed into harmless particles; the chlorine atoms are converted into benign chloride ions that wash safely down the drain.
Click on the lab report link above to see the results of 3rd-party lab testing. You may notice that, for a truly accurate test, the lab increased the chlorine in the test samples to simulate that added by many municipalities. Results show that the Omica Filter can reduce up to 96% of chlorine in the water.
There are no replacement cartridges needed, allowing room for up to 30% more filtration media (twice the filtration media of other shower filters). The filter lasts 8-10 months, then replace the entire filter, giving you a completely clean and sanitary unit each time. Shower head is for display only and is not included with the purchase of the shower filter.
Because these filter so well, after 8-10 months there can be naturally-occurring debris clogging, causing more pressure and reducing the quality of the filtration. This is why we guarantee 8-10 months or 10,000-12,000 gallons of use and suggest usage be stopped by the 10th month.
The Omica Shower Filter has a standard 1/2″ pipe thread that fits most shower connections in the U.S, Canada and Mexico. It installs in minutes; no tools necessary. Teflon tape is provided with the filter.
See the Directions tab for installation instructions and photos. After installing the shower filter, the excess filtration media (dark particles) will dissipate within the first minutes of use, and will dispel completely after the first few days.
This product is proudly manufactured in the U.S.A
100% Satisfaction Guaranteed with our 30-day money back guarantee!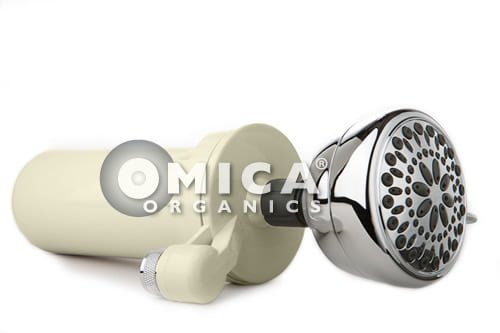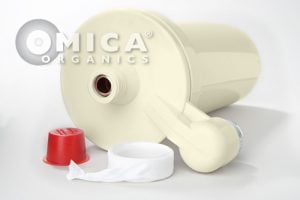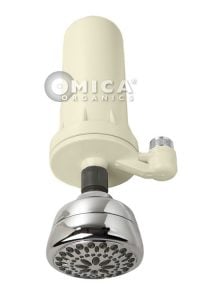 Feedback

Please feel free to share your experience with all of us by commenting on the Discussion tab above. Thank you.

---

Disclaimer

For educational purposes only. The statements made on this website have not been evaluated by the Food & Drug Administration, and are not intended to be relied upon as medical advice. This product and information are not intended to diagnose, prevent, treat, or cure any disease, and may not apply to you. Results may vary. If you are pregnant, nursing, taking other medications, or have a serious condition, we suggest consulting with a physician or other appropriate medical professional before using any dietary supplements, or following the information provided on this site.