Turmeric Extract Powder 90%, Organic (1 kg, 2.2 lb) bulk
Login for Price
Organic Turmeric Extract Powder, 85%
BULK ITEMS CANNOT BE REFUNDED

New customers should contact Omica before purchasing in bulk. Bulk items are non-refundable.
Description
Our curcumin, the active ingredient in turmeric, is extracted using clean, organic ethanol, not the methanol or harsh solvents commonly used in the industry. This clean processing allows ours to pass organic certification requirements, plus greatly raises the absorption rate.
At 85% standardization, which is the highest obtainable without harsh solvents, our Turmeric Extract Powder has a much higher absorbency rate than solvent-extracted alternatives, even those showing higher curcumin percentages. Though it's common to see labels on the market stating 95% curcumin, the chemicals required to reach this number actually reduce their absorbency. Omica's Turmeric Powder is both organic and kosher, plus is the cleanest and most bioavailable on the market.
Turmeric, originally native to India, is now cultivated throughout the tropics and has been used as a spice for 2500 years. More recently, about 1000 years ago, when its other benefits were discovered, turmeric became an Ayurvedic staple known for its anti-inflammatory and anti-aging nutrients, and strong antibiotic properties.
Our powders have low moisture, which means more stability and reduced pathogenic activity. Moisture of 15% is normal for most powdered products; Omica's have moisture levels below 5%. Lower moisture levels not only greatly reduce the pathogen risk, but leaves enough space to give you 10% more of our unique, first-of-its-kind organic, kosher root powder with its enhanced stability, very low pathogenic activity, and all the therapeutic benefits you expect from turmeric.
Kosher and Certified USDA NOP Organically Grown and Harvested; Processed Using No Harsh Solvents
Nourishing, Revitalizing, Restorative
No Additives, Fillers, Soy or Artificial Ingredients
A Natural Antioxidant; Supports a Healthy Inflammatory Response
Premium Finely Ground, Evenly-Textured Powder
Vegetarian/Vegan, Gluten-Free, non-GMO, Non-Irradiated
Packaged in a Resealable Mylar Pouch For Freshness
Processed in a state-of-the-art Food GMP-Certified, ISO9001: 2008-Certified, HACCP-Certified, and NOP Organic-Certified facility under strict quality standards. Tested in independent 3rd-party US labs.
1/2 kg (1.1 lb)    Serving Size: 1/4 tsp (1 gm / 1000 mg)     Servings per pkg: 500
Caution: May stain clothing or other surfaces.
We use no animal products. Omica is a cruelty-free company and does not, nor has ever, tested on animals.
Please feel free to share your experience with all of us by commenting on the Reviews tab above. Thank you.
Ingredients:
Organic, Kosher Turmeric Extract Powder standardized to 85% curcumin
Directions:
Mix 1/4 tsp. (1 gram) into tea, juice, or your favorite beverage or smoothie.
Store in a sealed container in a dry, cool area. Sift before use.
May stain clothing or other surfaces.
Label: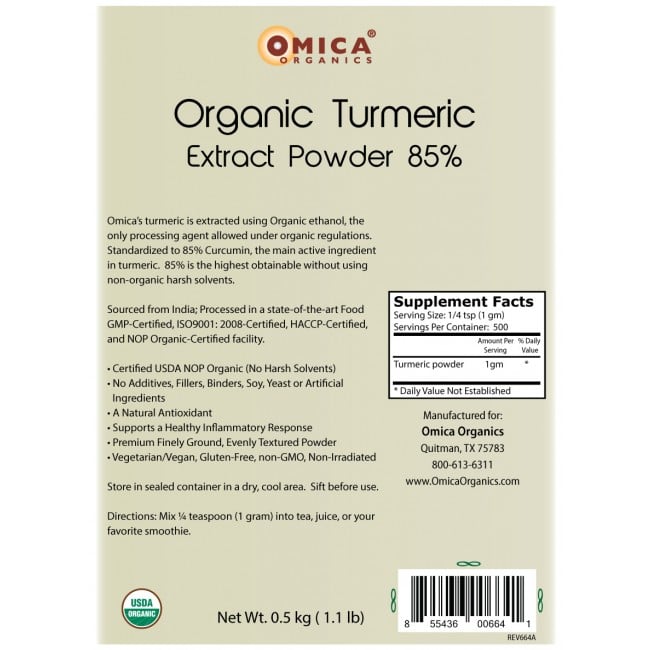 Additional information
| | |
| --- | --- |
| Weight | N/A |
| Dimensions | N/A |