Stevia Extract Powder 98% Reb-A, Organic and Kosher (100g / 3.5 oz)
Login for Price
Stevia Extract Powder 98% Reb-A, Organic and Kosher (100g / 3.4 oz) BULK
Description
Omica harvests the highest grade Certified Organic stevia leaves, then processes using no harsh solvents. At Reb-A levels of 98% and over 99.99% Stevioglycosides, Omica's Stevia Powder is deliciously sweet with no aftertaste, 100% pure with no additives, fillers or chemical residues.
Omica's gentle TruExtract™ processing method uses no enzymes, methane, hexane, or ethyl acetate, allowing Omica Stevia to meet the high standards of both USDA Certified Organic and Certified Kosher.
High Rebaudioside-A (Reb-A) is the measure of potency and clean taste Stevia. Though most labels show the Stevioglycosides, always look for a high Reb-A percentage because that is the true indication of a premium quality.
450 Times Sweeter Than Sugar – A Little Goes A Long Way
High in Reb-A to reduce bitterness and aftertaste
Zero Calorie, Zero Carb, Zero Sugar
100% Pure and Natural Stevia Extract
No Erythritol
No Excipients, Fillers, or Additives
Vegen/Vegetarian, Gluten-Free, Non-GMO, Non-Irradiated
100g (3.5 oz)        Serving size:  1/80 tsp (25 mg)        Servings per container: 4,000
Stevia Extract Powder 98% Reb-A is also available in larger Bulk quantities: 50g, 250g, 1kg, 5kg, 20kg
For larger quantities contact Omica Organics
Please feel free to share your experience with all of us by commenting on the Reviews tab above. Thank you.
For educational purposes only. The statements made on this website have not been evaluated by the Food & Drug Administration, and are not intended to be relied upon as medical advice. This product and information are not intended to diagnose, prevent, treat, or cure any disease, and may not apply to you. Results may vary. If you are pregnant, nursing, taking other medications, or have a serious condition, we suggest consulting with a physician or other appropriate medical professional before using any dietary supplements, or following the information provided on this site.
Ingredients:
100% PureStevia Extract Powder 98% Reb-A
Certified Organic Star-K Kosher
No other ingredients added
Directions:
Very Sweet. Add VERY SPARINGLY to coffee, tea or any other hot or cold beverage.
Label: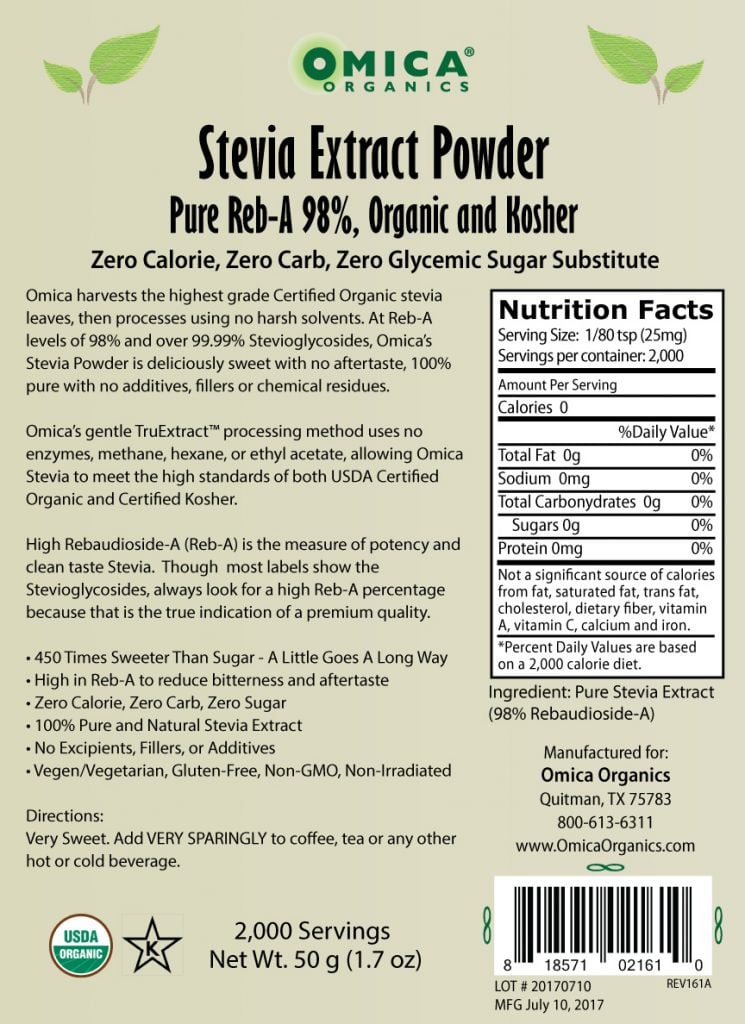 Additional information
| | |
| --- | --- |
| Weight | 0.27 lbs |
| Dimensions | 4.75 × 0.5 × 8 in |