SuperIonic Fulvic Minerals (4 fl oz)
Login for Price
SuperIonic is an all-natural, proprietary formulation of Concentrated Fulvic Minerals bonded with Seaweed-Derived Trace Minerals
Also available in 32 oz
Description
SuperIonic™ is an all-natural, proprietary formulation of Concentrated Fulvic Acid bonded with Ancient Ocean-Derived Trace Minerals, Seaweed-Derived Calcium and Magnesium. Contains over 70 trace minerals, naturally-occurring in their ionic form.
What is unique about our Concentrated Fulvic Ionic Trace Minerals?
We begin with a proprietary, rare source of humic and fulvic base, then formulate using our proprietary, acid-free refining method.
What is Fulvic Acid?
Fulvic acid, extracted from humic ore, is a weak organic acid that can penetrate cell walls.
We use humic ore that is naturally high in fulvic acid, and age it for 1 year prior to processing. Aging the humic ore oxidizes it properly and makes it more porous, which then allows us to extract the water soluble fulvic minerals/acids using no solvents except the natural spring water from the same land where we obtain the humic ore. The extraction method is a simple, gravity-fed process in which the spring water flows through the humic ore and emerges as fulvic acid; simply the "tea" of the humic ore.
Taking undiluted is not recommended. Always dilute with chlorine-free water or other chlorine-free liquids.
No chemicals, flavorings, preservatives, or sweeteners
A good source of carbon-bonded trace minerals
Helps to enliven water by adding electrolytes and micronutrients
Non-irradiated
Product of the USA
Gluten-free
pH level 5.2-5.5
In keeping with Omica Organics' high standards, we pay close attention to detail. For instance, all of our liquid supplements and our stevias are sold in glass bottles with custom-made blunt-tipped glass droppers so there is no plastic touching the liquid. For further safety, we undertook to have special droppers custom produced just for our products, rather than purchase industry-standard glass bull-nose droppers, which have a long, thin tip and are prone to breaking.
4 fl oz (118 mL)     Serving size: 32 drops          Servings per container: 39
Directions
36 drops dispersed throughout the day diluted in water or other beverage. May be taken with or without food. May also be added to juice or drinking water. SHAKE WELL BEFORE USE. NO REFRIGERATION NECESSARY.
1 dropper/pump is the amount drawn into the dropper when the bulb is squeezed and released once. The entire tube will not fill completely, but will likely fill less than 1/2.
Omica does not, nor has ever, tested on animals.
Please feel free to share your experience with all of us by commenting on the Reviews tab above. Thank you.
For educational purposes only. The statements made on this website have not been evaluated by the Food & Drug Administration, and are not intended to be relied upon as medical advice. This product and information are not intended to diagnose, prevent, treat, or cure any disease, and may not apply to you. Results may vary. If you are pregnant, nursing, taking other medications, or have a serious condition, we suggest consulting with a physician or other appropriate medical professional before using any dietary supplements, or following the information provided on this site.
Ingredients:
Proprietary blend of Fulvic Acid and Seaweed-Derived Minerals
Lab Results:
Frequently Asked Questions:
How much is considered one dropper/pump?
One dropper/pump is the amount drawn into the dropper when the bulb is squeezed and released once. The entire tube will not fill completely, and will likely fill less than 1/2.
Has this product been irradiated?
No, none of the products sold by Omica Organics have been irradiated.
Does this product need to be kept cold?
No, refrigeration is not necessary.
Directions
36 drops dispesed throughout the day diluted in water or other beverage. May be taken with or without food. May also be added to juice or drinking water.
SHAKE WELL BEFORE USE. NO REFRIGERATION NECESSARY
Label Info: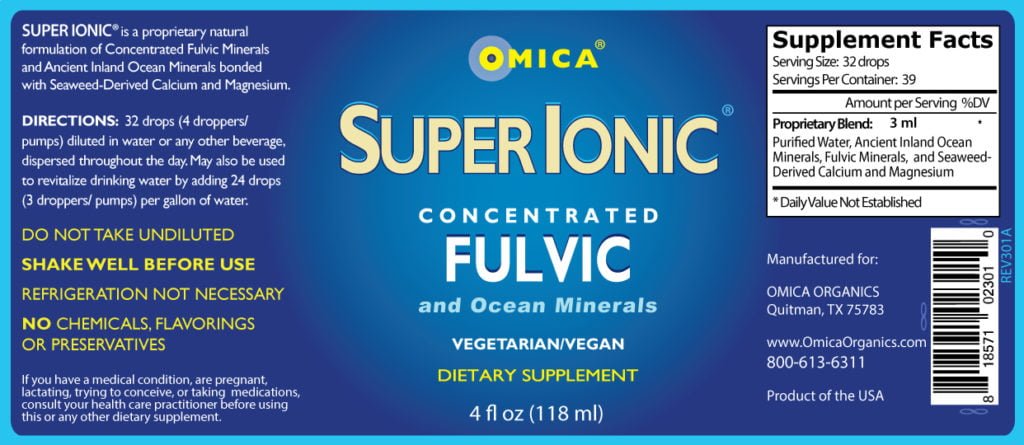 Click to view full size image
Additional information
| | |
| --- | --- |
| Weight | .53 lbs |
| Dimensions | 2.5 × 2.5 × 6.5 in |