Turmeric Curcumin Powder Water-Soluble Extract, Kosher (1 kg, 2.2 lb) bulk
Login for Price
Highly prized for its uniquely superior bioavailability, this turmeric is standardized to 10% of our rare, water-soluble curcumin (the main active ingredient in turmeric.)
BULK ITEMS CANNOT BE REFUNDED

New customers should contact Omica before purchasing in bulk. Bulk items are non-refundable.
Description
During regular curcumin extraction, 3-4% of naturally water-soluble curcumin is formed. We collect this scarce treasure from many batches to craft our exclusive water-soluble extract powder.
Turmeric, originally native to India, is now cultivated throughout the tropics and has been used as a spice for 2500 years. More recently, about 1000 years ago, when its other benefits were discovered, turmeric became an Ayurvedic staple known for its anti-inflammatory and anti-aging nutrients, and strong antibiotic properties.
Our powders have low moisture, which means more stability and lower pathogenic activity. Moisture of 15% is normal for most powdered products; Omica's have moisture levels below 5%.
Lower moisture levels not only reduce the pathogen risk, but leave enough space to give you 10% more of our unique, water-soluble, kosher Turmeric powder with its enhanced stability, very low pathogenic activity, and all the therapeutic benefits you expect from turmeric.
Highly Bioavailable Water-Soluble/Dispersible Curcumin Powder
Kosher
Contains Organic Tapioca Extract Powder for Enhance Benefits
No Methanol or Harsh Solvents Used in Processing
Nourishing, Revitalizing, Restorative
No Additives, Fillers, Soy or Artificial Ingredients
A Natural Antioxidant Superfood; Supports a Healthy Inflammatory Response
Premium Finely Ground, Evenly-Textured Powder
Vegetarian/Vegan, Gluten-Free, non-GMO, Non-Irradiated
Use as a Supplement, Tea, or Spice
Packaged in a Resealable Mylar Pouch For Freshness
Sourced from India. Processed in a state-of-the-art Food GMP-Certified, ISO9001: 2008-Certified, HACCP-Certified, and NOP Organic-Certified facility under strict quality standards. Tested in independent 3rd-party US labs.
1/2 kg (1.1 lb) Serving Size: 1/4 tsp (1 gm / 1000 mg) Servings per pkg: 500
Caution: May stain clothing or other surfaces.
Ingredients:
Turmeric Curcumin Extract Powder, Water-Soluble, Standardized to 20%
Organic Tapioca Extract Powder
Directions:
Mix 1/4 tsp. (1 gram) into tea, juice, or your favorite beverage or smoothie.
Store in a sealed container in a dry, cool area. Sift before use.
May stain clothing or other surfaces.
Label: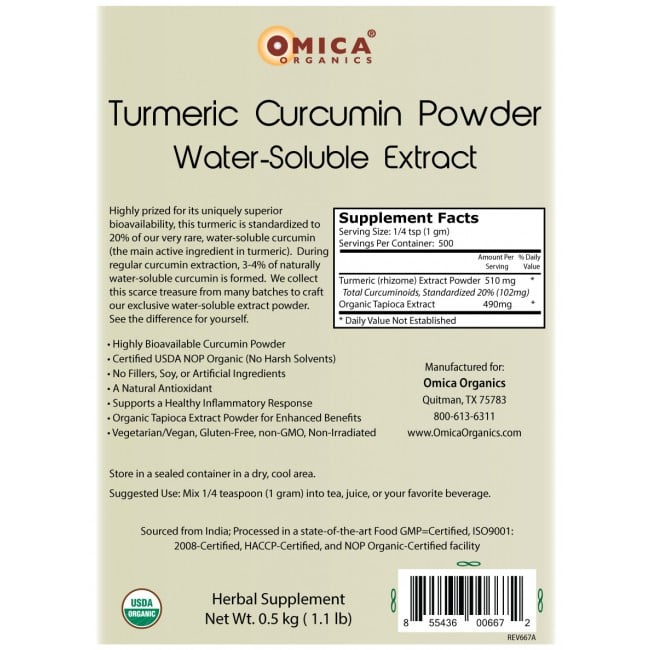 Additional information
| | |
| --- | --- |
| Weight | 1.30 lbs |
| Dimensions | 8 × 3.4 × 11.6 in |