Ginger Juice Freeze Dried Powder, Organic Item # GNG2858 (3.5 oz / 100 g)
Login for Price
LARGE BULK SIZES AVAILABLE
Call 1-800-661-6851 for quote on orders between 5 kg and 500 kg.
Description
Fresh Ginger root is Juiced and Freeze Dried for optimum preservation, bioavailability.
Delicious and strong flavors with pungent aroma
80 times more potent than only crude ginger juice
Certified USDA Organic, Star-K Kosher
100% Water Soluble
NO Additives, Fillers or Other Ingredients
Vegetarian/Vegan, Gluten-Free, non-GMO, Non-Irradiated
Sourced from India; Processed in a state-of-the-art Food GMP-Certified, ISO9001: 2008-Certified, and NOP Organic-Certified facility.
Please feel free to share your experience with all of us by commenting on the Reviews tab above. Thank you.
For educational purposes only. The statements made on this website have not been evaluated by the Food & Drug Administration, and are not intended to be relied upon as medical advice. This product and information are not intended to diagnose, prevent, treat, or cure any disease, and may not apply to you. Results may vary. If you are pregnant, nursing, taking other medications, or have a serious condition, we suggest consulting with a physician or other appropriate medical professional before using any dietary supplements, or following the information provided on this site.
Ingredients:
100% Pure Ginger Juice Freeze Dried Powder
Certified Organic Star-K Kosher
No other ingredients added
Directions:
As a dietary supplement, 1/4 teaspoon (500 mg) daily. For best results consult your physician.
Label: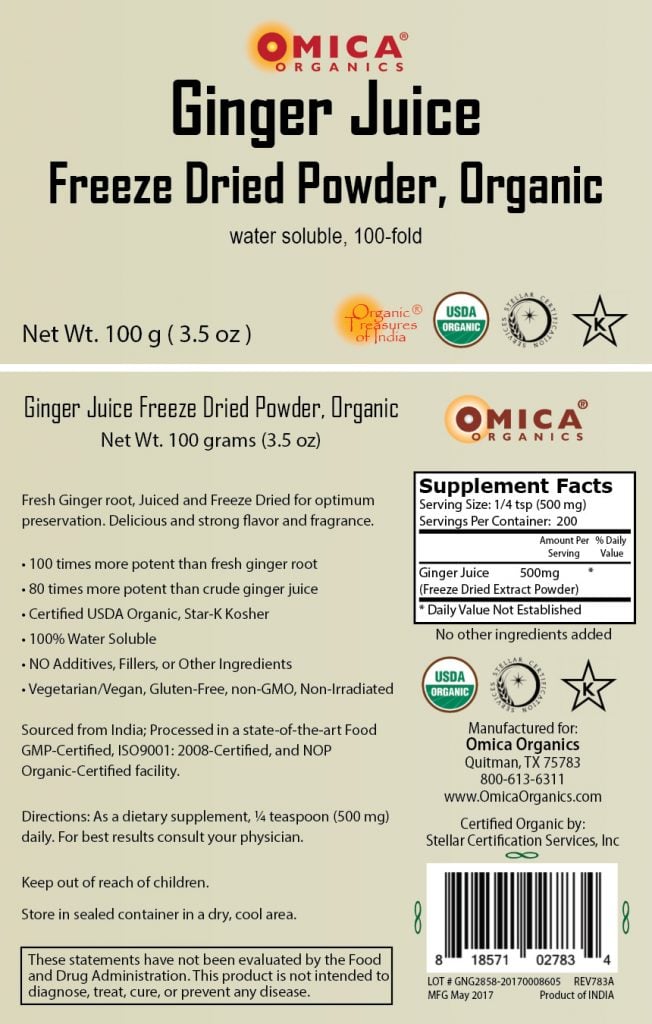 Additional information
| | |
| --- | --- |
| Weight | 0.25 lbs |
| Dimensions | 5.25 × 1.5 × 8 in |